On Tour with
Prism Book Tours
.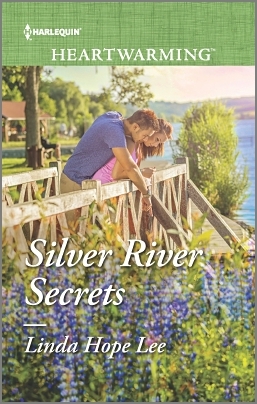 Silver River Secrets
by Linda Hope Lee
Adult Contemporary Romance
Mass Market Paperback & ebook, 384 pages
December 1st 2016 by Harlequin Heartwarming
Tragedy made them strangers. The truth could change that…
Lacey Morgan's grandmother is the only reason she has to ever set foot in Silver River. Her hometown is populated with too many ghosts and memories. Too many painful reminders. Including Rory Dalton.
In all her brief visits over the past ten years, they've barely spoken. Locked on opposite sides of the tragedy that tore their lives apart, they buried their feelings along with their parents. But this trip is different. She will stay a little longer. Dig a little deeper. And try to solve the mystery that has kept them from the truth…and each other.
Goodreads│Amazon│Barnes & Noble│Harlequin
Excerpt
Inside the house, Sophie Bennett came from around the counter with arms outstretched. "Lacey! I've been watching for you."
"Hello, Sophie." Lacey returned Sophie's hug, catching a whiff of her lilac-scented perfume.
Sophie stood back and held Lacey at arm's length. "Good to see you."
Sophie's bright blue T-shirt and orange slacks fit smoothly over her trim figure. An orange scarf holding back shoulder-length blond hair revealed a hint of gray at the temples.
Sophie returned to her post behind the counter to check Lacey in. That completed, she took a key from a drawer and motioned to Lacey. "Come on. I'll take you up to your room."
They went down a carpeted hallway to the stairs. The rooms they passed offered Lacey glimpses of wood paneling and wallpaper, brocaded fabrics and patterned carpets, hurricane lamps and heavy draperies. The B and B had long been a dream of Sophie's, and when she finally convinced her husband, Hugh, to buy the place, she fixed it up in style.
"Sorry to hear about your grandmother's accident," Sophie said over her shoulder as they climbed the stairs. "How's she doing?"
"Determined to walk again, but agrees it's time to be in a place where someone can look after her."
"There's no better place around here than Riverview."
"I know. We're so lucky the owners decided to build their retirement home here rather than in Milton."
On the second floor, Sophie stopped at one of the rooms and slipped her key into the lock. "Here we are."
Lacey followed her inside, her gaze taking in a queen-size bed with a colorful patchwork quilt, an armoire, an overstuffed chair and a round rosewood table. A Tiffany lamp decorated with yellow roses hung over the table.
"I love it!" Lacey exclaimed.
"Fabulous view, too. Take a look."
Lacey parked her suitcase next to the luggage rack and followed Sophie to the window. In the courtyard below, water gushed from a stone fountain, and walkways wound through gardens full of flowers. Beyond lay the river and neighboring farms.
Then her gaze landed on an all-too-familiar copse of willow trees and a two-story house with peeling white paint. Her stomach dropped. "Oh..."
"What's the matter?" Sophie's voice rose in alarm.
"Our old house. Gram's house."
"You can see it from here?" Sophie peered out the window. "Oh, my. Lacey, I'm sorry. I never realized..." Sophie pressed her fingers to her lips and looked at Lacey. "You don't have to stay in this room. You can move across the hall."
Lacey shook her head. "No, I want this one."
"But to be reminded whenever you look out the window..."
"Sophie, not a day goes by that I don't think about what happened in that house."
"I'm sorry, honey, so sorry. But I do wish you could put the past behind you."
Lacey shook her head and bit her lower lip. "Not possible."
Sophie let a moment of silence pass and then said, "Okay, if you're sure you don't want to change rooms, I'll let you get settled. You probably want to go see your grandmother right away."
"Yes, I'm having dinner with her, but that still gives me time to unpack."
"If you need help bringing in more stuff, Hugh is around somewhere."
"I'll be fine. Thanks." Lacey lifted her suitcase onto the luggage rack and unzipped it.
Linda Hope Lee
writes contemporary romance, romantic suspense, and mysteries. She enjoys traveling especially to small towns in search of story ideas. She's also an artist, specializing in watercolor, pen and ink, and colored pencil. Photography provides inspiration for both her writing and her art. She lives in the Pacific Northwest, where many of her stories are set.
Tour Giveaway
- 1 winner will receive a $50 Amazon eGift Card & copy of SILVER RIVER SECRETS by Linda Hope Lee
(print if US, ebook if international)
- 3 winners will receive a copy of SILVER RIVER SECRETS by Linda Hope Lee
(print if US, ebook if international)
- Open internationally
- Ends December 12th
a Rafflecopter giveaway