***Premiering as Sweetest Heart on the Hallmark Channel

March 17th 9 PM ET

***
(check your local listings for your air time)
Heart's Desire
(Shores of Indian Lake #2)
Catherine Lanigan
Contemporary Romance
Paperback & ebook, 191 pages
August 1st 2014 by Harlequin Heartwarming
Goodreads│Amazon│Barnes & Noble│Harlequin
His homecoming is bittersweet…for both of them
Café owner Maddie Strong is finally ready to take her burgeoning cupcake business to the next level. With the help of handsome businessman Alex Perkins, her future's all mapped out. Until her first love comes home.
At seventeen, Maddie adored Nate Barzonni with her whole heart and soul. But when he asked her to elope, she'd said no—she couldn't let him throw away his dream of becoming a doctor. Then he vanished from her life for eleven years. Now the cardiac surgeon has returned to Indian Lake asking for a second chance, and Maddie has to choose between her new life…and the man she never stopped loving.
Excerpt
Valentine's Day," Maddie whispered. "A moneymaker day." She smiled, then felt her smile drop off her face like icing off a cake when it's been sitting in the sun too long. For the first time in over a decade, Maddie remembered that Valentine's Day was a day for love.
She'd received beautiful flowers a few days ago, which was a first for her. Alex had even called her last night to make certain they'd arrived.
"Hey, beautiful. Happy Valentine's Day tomorrow," he'd said, his voice filled with anticipation. He spoke in a sultry baritone she'd never heard during their office meetings. Their conversations had always been about profits, projected earnings and potentials.
"They're just gorgeous," she'd gushed. "So exotic. Especially for this time of year."
"I like unusual and unexpected things. Were you surprised?"
"Very. I couldn't figure out who would be sending me flowers."
"Ah. That's good," he said. "I wanted you to have something special while I was away..." His voice trailed off as if there was something else he was going to say before he thought better of it.
"So I don't forget you? Is that what you were going to say, Alex?
"To Dubai. For three weeks," he'd said, as if in apology.
"United Arab Emirates," she'd whispered as her mind flitted halfway across the globe. "That's a long way."
"It is. Listen, I scheduled a meeting for us when I get back. We'll need to catch up. And I'm hoping to have an investor for you by then."
Maddie's heart had actually tripped a beat. "Investor?"
"I don't want to get your hopes up quite yet. But I have someone on the line. I'll tell you about it when I get back. You take care, Maddie. I'll try to text you while I'm gone. I hope their cell coverage isn't as bad as the last time I was there."
"You've been to Dubai before?"
"Several times. I'm working on something...." He had a way of leaving valuable information hanging in space like tiny crumbs leading to hidden treasure.
Remembering their phone conversation, Maddie's head was filled with thoughts of Alex. He was like a dream to her. He was tall, blond and wide-shouldered, and had a very strong jaw that looked as if it was chiseled from granite and a dimple in his chin. His blue eyes were the color of cornflowers in summer. His smile revealed sparkling white even teeth, and his full lips completed a face so handsome she finally understood why the Greeks invented a god of male beauty. Alex could have been a dead ringer for Adonis.
The first time she'd met him in his office, she was impressed with his confidence, sincerity and assuredness. He was the kind of man people trusted with their entire life's savings. He was the kind of executive people turned to when their world was crashing down around them. Maddie's first impression was that this man was smart enough, savvy enough, to turn around even the worst-case scenarios.
Now, he'd sent her flowers, and he'd been especially sweet to her on the phone, making her think about things romantic.
It had been a long, long time since Maddie had had time or room in her thoughts for anything other than her passion for her career.
Romance was something she'd discarded when she was seventeen, when Nate Barzonni had asked her to marry him and then left town the next day. He'd never called or written. She'd never received an explanation. He'd simply disappeared.
For over a decade, she'd been heartbroken and very, very angry.
No, Maddie thought. Romance was something that existed only in her past
Other Books in the Series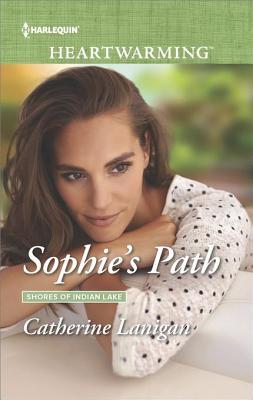 Catherine Lanigan
is the international bestselling and award-winning author of over forty-five published titles in both fiction and non-fiction, including the novelizations of
Romancing the Stone
and
The Jewel of the Nile
. Ms. Lanigan's novels have been translated into over twenty-four languages. Lanigan was tasked by the NotMYkid foundation to pen a collection of compelling and informative true stories of teen addicts. Ms. Lanigan's SHORES OF INDIAN LAKE series for HARLEQUIN HEARTWARMING includes LOVE SHADOWS, HEART'S DESIRE , A FINE YEAR FOR LOVE, KATIA'S PROMISE, FEAR OF FALLING, SOPHIE'S PATH, PROTECTING THE SINGLE MOM, FAMILY OF HIS OWN, HIS BABY DILEMMA, TOO CLOSE TO THE FIRE (2018) and MY RACING HEART (2019).
The Hallmark Channel will air HEART'S DESIRE on March 17, 2018.
Ms. Lanigan is a frequent speaker at literary functions and book conventions as well as inspiring audiences with her real stories of angelic intervention from her Angel Tales series of books. She is an outspoken advocate for domestic violence and abuse and was honored by The National Domestic Violence Hotline in Washington, D.C. She has been a guest on numerous radio programs including "Coast to Coast" and on television interview and talk show programs as well as blogs, podcasts and online radio interview programs. She writes a monthly blog for Heartwarmingauthors.blogspot.com. Visit her at
www.catherinelanigan.com
, on Facebook, LinkedIn,
Twitter @cathlanigan
, Pinterest, Goodreads and Google+.
1 winner will receive a $50 Amazon eGift Card
Open internationally
Ends March